Guide Dogs 90th Anniversary Garden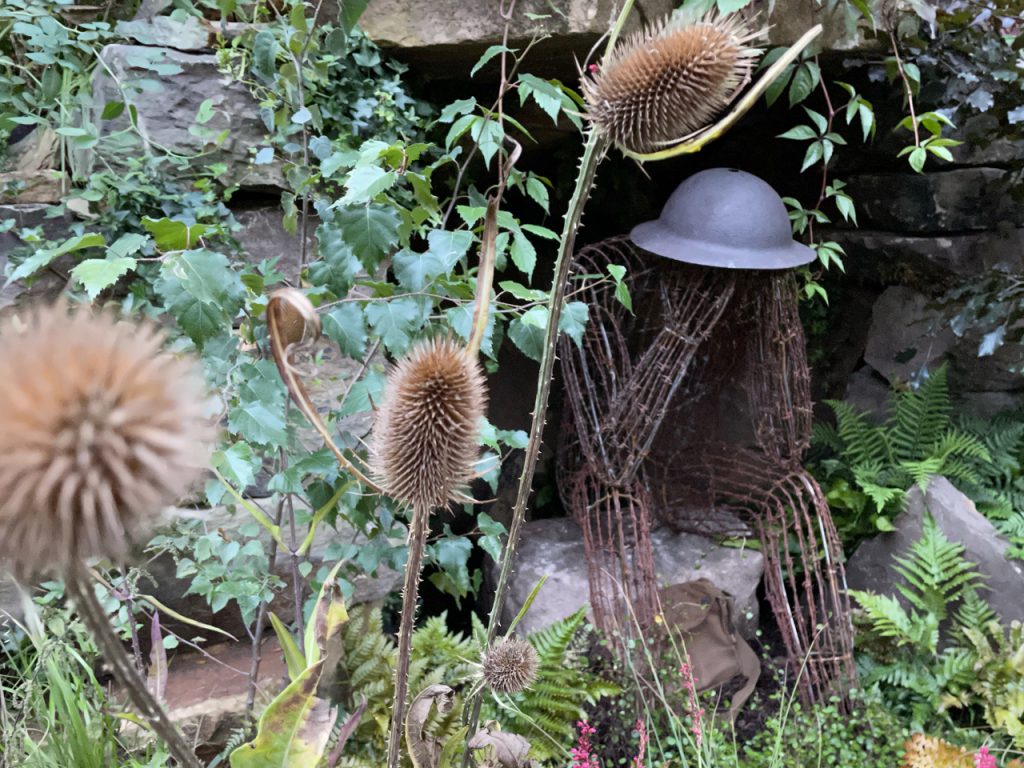 Guide Dogs 90th Anniversary

Garden
Our 2021 RHS Chelsea Sanctuary Garden was a celebration of 90 years of the Guide Dogs for the Blind Association and the first British guide dog partnerships.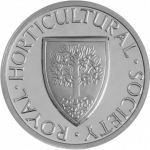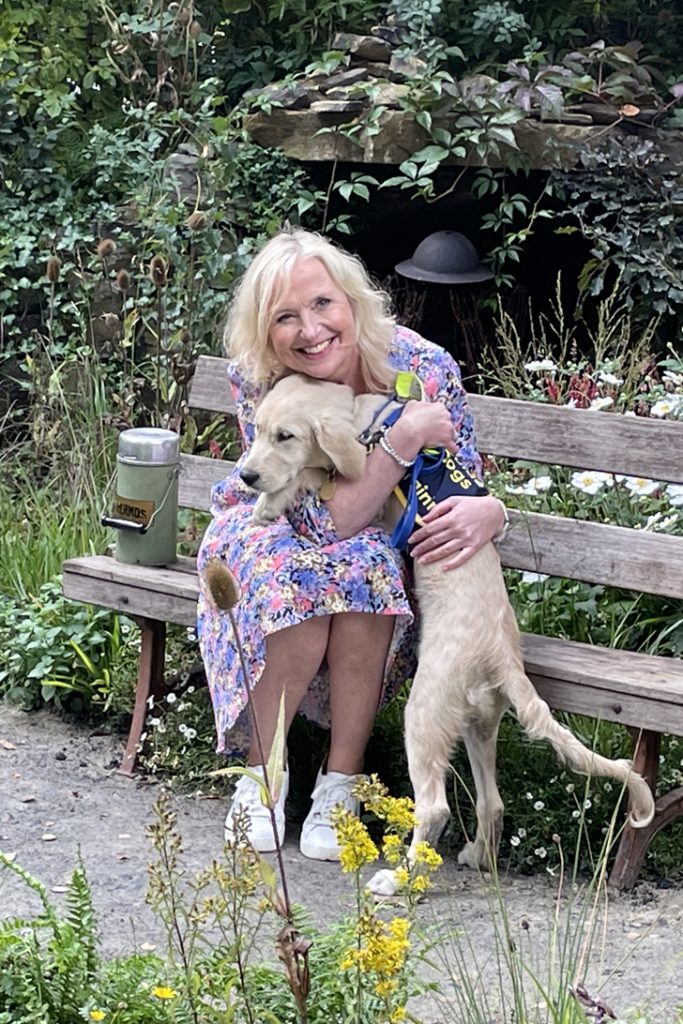 In 1931 the first British partnerships were formed between German Shepherd dogs and veterans who had lost their sight following injuries received from gas attacks in World War 
These partnerships offered a much-needed lifeline and gave independence to people without it and offered real hope for a more fulfilled life in the future.
With a nod to the charity's origins in the 1930s the garden illustrated the journey somebody takes from darkness, isolation and fear into a world of enrichment, acceptance and joy with the help of their canine companion by their side.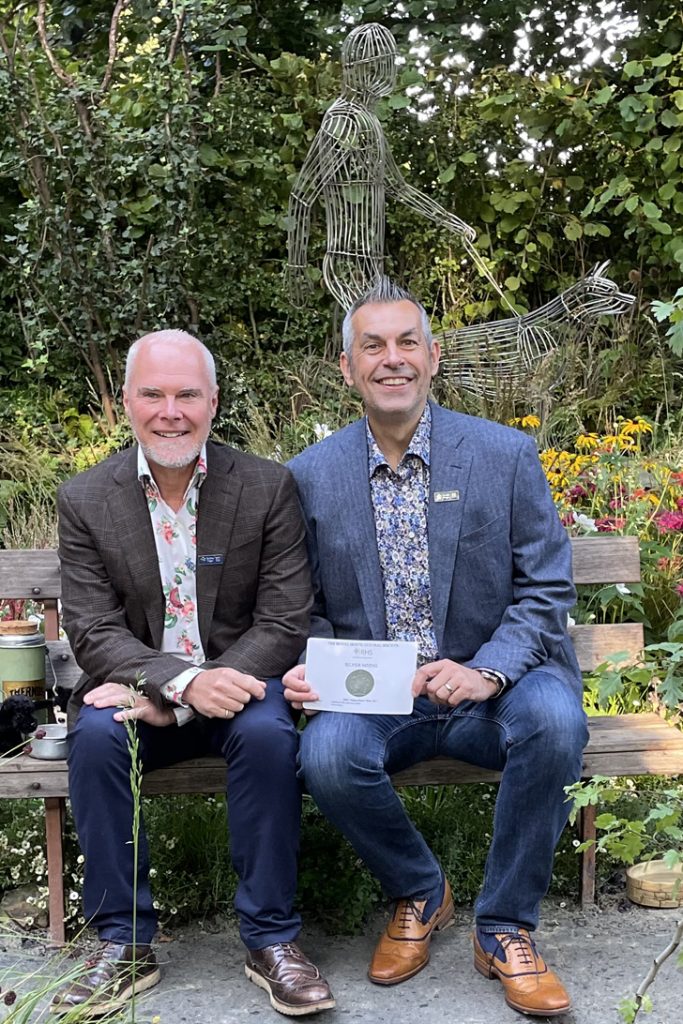 Essentially, it was planned as a wildflower garden, with sensory elements such as contrasting bold blocks of colourful flowers, fragrant honeysuckle, tactile grasses, a babbling stream and fruit trees. Because the Show was put back until September we had to augment the wildflowers with additional, colourful, cultivated perennials. We used 1930's varieties such as Aster frikartii 'Monch', Anenome 'Honorine Jobert' and Rudbeckia 'Goldsturm'.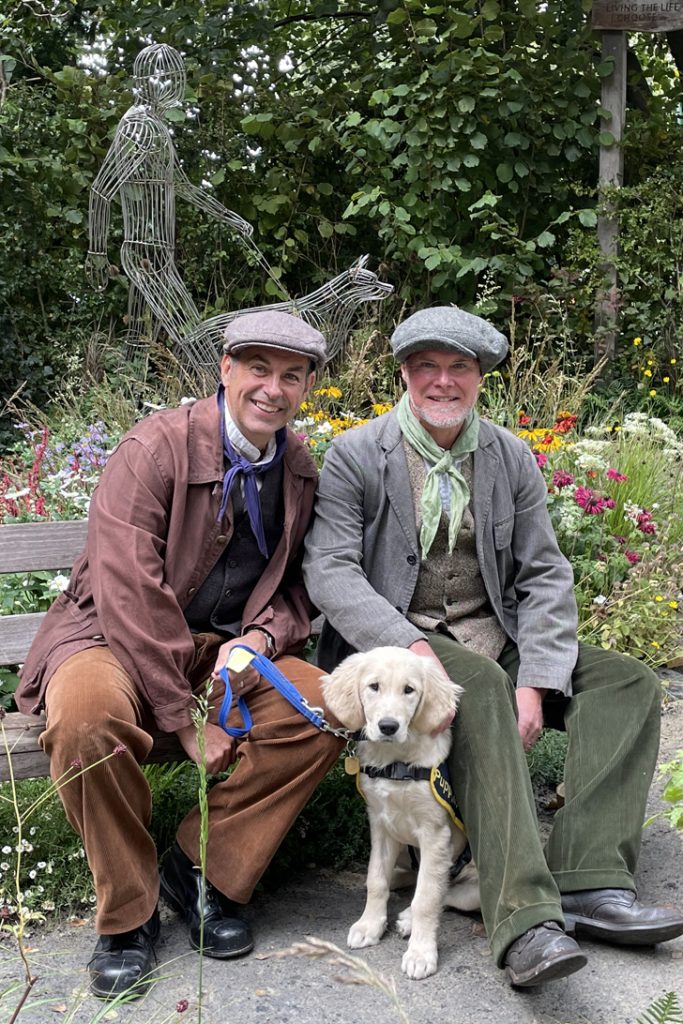 The garden incorporated specially commissioned sculptures by Tom Hill (www.tomhillsculpture.co.uk) to tell the story of a journey from isolation to independence. One of these sculptures was of a figure hunched up in despair in a stone cave-like dark, hollow, surrounded by dark planting and limited flower colour. This sculpture was made of rusty barbed wire, a nod to the war time origins of the charity. A rocky path led up and out of this place. The garden opened up to an area of vivid flower colour with a second sculpture of a figure upright and confident striding out into the future with their dog by their side, guiding them to freedom and able to fully experience the world around them. Finally able to live the life they chose. 
As with all our Chelsea gardens this one was not only nostalgic, but also had a real emotional feel and gave you an idea of how vitally important guide dogs are to their owners. A real people's favourite we were delighted to have been awarded a Silver Medal.